The fight to eradicate malaria is stalling, according to the World Malaria Report 2017, released today by the World Health Organization. In 2016 there were an estimated 216 million cases of malaria in 91 countries, 5 million more than in 2015; while deaths reached 445 000 compared to 446 000.
"In recent years, we have made major gains in the fight against malaria," said Tedros Adhanom Ghebreyesus, Director-General of WHO. "We are now at a turning point. Without urgent action, we risk going backwards, and missing the global malaria targets for 2020 and beyond", he added.
An estimated 90 percent of all malaria cases and deaths worldwide occur in Africa. The 80 percent in just fifteen countries, all but one in sub-Saharan region. "Clearly, if we are to get the global malaria response back on track, supporting the most heavily affected countries in the African Region must be the primary focus," Tedros said.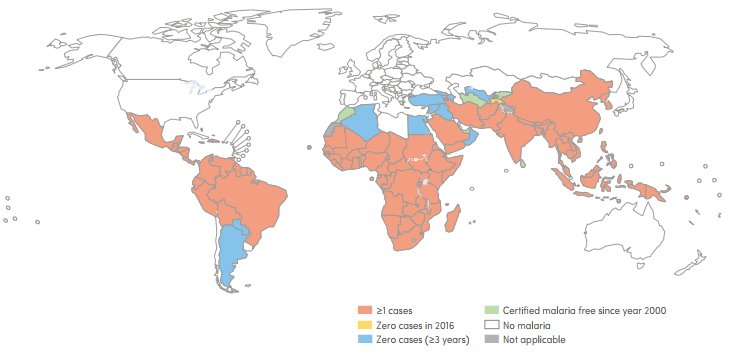 Malaria is still one of the world's deadliest diseases. It kills "one child every thirty seconds", according to Unicef. It contributes to slow growth and increase poverty. However, it is preventable and curable.
The WHO Global Technical Strategy for Malaria, adopted by the WHO Assembly in 2015 a framework to guide countries in accelerating progress towards malaria elimination, set the target of reducing incidence and mortality rates by at least 40 percent by the 2020. According to WHO report, the world is not on track to reach those goals.
The major problem remains the insufficient funding. About $ 2.7 billion was invested in 2016,  well below the $6.5 billion required to meet the targets, for drug treatments, insect nets, insecticide spraying and diagnostic kits. The 31 percent of funding was provided by governments of endemic countries; the 38 percent by the United States of America.
Conflict and crises in malaria endemic zones are also playing a major role in hampering malaria eradication as well as low access to the public health system.  
"We are at a crossroads in the response to malaria," said Pedro Alonso, Director of the Global Malaria Programme said. "We hope this report serves as a wake-up call for the global health community. Meeting the global malaria targets will only be possible through greater investment and expanded coverage of core tools that prevent, diagnose and treat malaria. Robust financing for the research and development of new tools is equally critical."
Credit: Pan American Health Organization