After two years and a half of conflict, Yemen is on the brink of famine and it is facing an "unprecedented" cholera crisis. Millions of people are in need of assistance, in what is the world's worst humanitarian crisis.
Some 22.2 million people, 2 million of which internally displaced, require humanitarian aid and protection, according to the 2018 Global Humanitarian Overview, launched today in Geneva by the United Nations Office for the Coordination of Humanitarian Affairs.
The report, which outlines the global humanitarian needs and funding requirements for the next year, calls for $2.5 billion to provide assistance to at least the 10.8 million people who are in acute need in the war-torn Yemen, where some ninety-six humanitarian organizations are working in five operational hubs.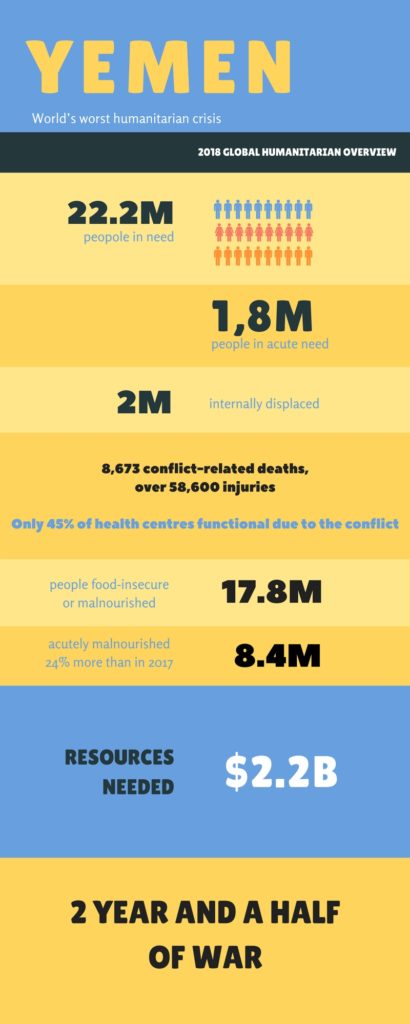 The peace process is stalling and the "a severe economic decline has accelerated the collapse of essential basic services and institutions", UNOCHA reports.
The November blockade of the ports, through which the majority of food and fuel imports flow, exacerbated the crisis. "In Yemen itself, the cost of diesel as doubled, while the price of petrol has risen by more than 70 percent and cooking gas by 18 per cent. It is critical that fuel reaches all Yemeni ports immediately — fuel is essential to operate generators for hospitals and water pumps, as well as to deliver drinking water and food", Stéphane Dujarric, Spokesman for the UN Secretary-General, said on Wednesday.
Following a relaxing of the blockade, UN humanitarian flights to Yemen have been resumed: "Our humanitarian colleagues tell us that some food has started to reach [the country], but it is not sufficient to prevent a humanitarian catastrophe", he said.
There are still two vessels, carrying approx thirty-five thousand metric tons of food, waiting at Hodaidah port, as Dujarric added today during the daily press briefing. "We would like to see a World Food Programme‑chartered vessel carrying United Nations Children's Fund and World Health Organization supplies, which are urgently needed to address the diphtheria outbreak in the country, to be cleared to enter the port", Dujarric said.
Credits: Julien Harneis